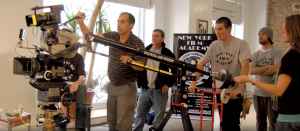 I chose to study at New York Film Academy because I want to be a director. I want to be able to express myself and work in filmmaking.
Classes at the New York Film Academy are really helpful and it's exciting to know I'm learning in every class. The teachers are open, dynamic, and friendly. They also share a passion for what they are teaching and it's motivating for us to feel it too.
I picked New York Film Academy over other schools and would recommend it to others because they offer intensive programs providing a great deal of experience for the time of its duration. I'm very happy here!
-Maria Lara